Pavilion boss eyes prime tract across the road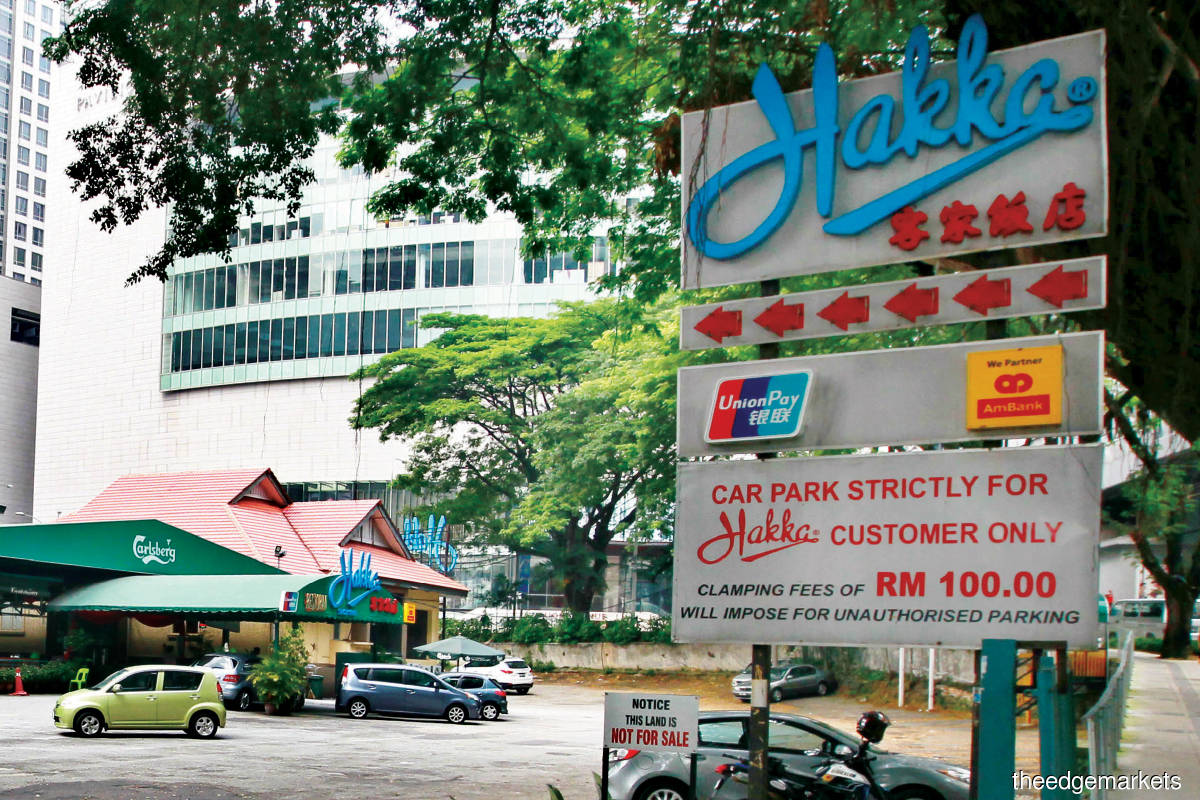 A prime parcel of land in Jalan Raja Chulan, within the Golden Triangle of Kuala Lumpur, which had for over a decade displayed a sign reading "This land is not for sale", may finally be sold.
The landowner, Loke Wan Yat Realty Sdn Bhd, is believed to be in talks to sell the land where the well-known Hakka Restaurant is situated.
Sources say Tan Sri Desmond Lim Siew Choon — who is rumoured to have had his eyes on the prized parcel for years — could soon emerge as owner of the asset. It is believed that a deal for the land measuring 3.56 acres (155,150 sq ft), a stone's throw from Pavilion Kuala Lumpur, may be inked for a price surpassing RM4,000 psf, valuing the prime tract at at least RM620.6 million.
The Hakka Restaurant, at 90 Jalan Raja Chulan, sits on two plots of freehold land measuring a combined 155,150 sq ft. Lot 381 measures 1.72 acres, or 74,948 sq ft, and Lot 382, 1.84 acres, or 80,202 sq ft.
Should Lim manage to get hold of the tract, another multimillion-ringgit project could be built on the site.
A land title search with the Federal Territories Director of Lands and Mines Office shows that the land is registered in the name of Loke Wan Yat Realty Sdn Bhd. On March 25, 2022, a company called Menang Lebar Sdn Bhd had entered a caveat on the said parcels to secure its interest in the land.
Who is Menang Lebar?
Menang Lebar's business address on the land title search is Level 6, Pavilion Tower, which, incidentally, is the business address of Lim's Impian Ekspresi Sdn Bhd and Jendela Mayang Sdn Bhd — the developers of Pavilion Damansara Heights.
A search with the Companies Commission of Malaysia lists the shareholders of Menang Lebar as Esmaliza Ismail and Shazni Sulaiman, who equally own the company and are directors of the company.
It is worth noting that their names have appeared in other companies linked to Lim. Esmaliza was a director of Anjurantau Sdn Bhd, which owns 51% of Impian Ekspresi. Shazni, whose name appears on the list of shareholders in Impian Ekspresi Sdn Bhd, was also named director of Jerantas Sdn Bhd, a Lim and Tan Sri Syed Mokhtar Albukhary joint-venture company that had once planned to bring Harrods Hotel to the capital city.
Industry experts contacted by The Edge for estimates on the land value peg it at between RM3,000 psf and RM4,500 psf. An estate agent who declined to be named says, "Anything priced above RM3,000 psf would mean the buyer is paying a premium."
Providing some background on the vendor, VPC Alliance Malaysia managing director James Wong tells The Edge: "After the sale of the 3.11-acre site in Jalan Ampang in December 2013 for RM3,300 psf to Oxley Holdings (Ltd), the Loke Wan Yat family appears to be on the verge of selling another gem property, Lot 381 and Lot 382, situated at the corner of Jalan Raja Chulan, Jalan Conlay and Jalan Kia Peng.
"[The late] Loke Wan Yat comes from an illustrious Chinese family, being the son of Loke Yew (1844-1917), a pioneer Chinese tycoon, who owns vast estates and tin mines in then Malaya. Loke Yew can be considered one of the founding fathers for the early development of Kuala Lumpur," he elaborates.
"Lots 381 and 382, with a combined land area of 3.562 acres, is indeed a prime commercial site. Under the KL City Plan 2020, the subject land is zoned City Centre Commercial (CCC) and the maximum permissible plot ratio under the CCC Zone is 1:10.
"In addition, this subject land is well served by the KL Monorail with the Raja Chulan Station 350m away and the Bukit Bintang Station 650m away; as well as the MRT, with the Bukit Bintang station 650m away and the Conlay Station on MRT Line 2 another 650m away," Wong says, adding that since the plots fall within the transit-oriented development, the site can enjoy an additional 0.5 increase in plot ratio.
With its several strong attributes, he believes this site will not be short of buyers.
Given its freehold status, prime location, proximity to KL Monorail and MRT stations and a high plot ratio of 1:10, Wong estimates thats Lot 381 and 382 will be able to fetch RM3,500 psf, despite the prevailing sluggish property market. He highlights that there have also been no major land transactions in the vicinity since early 2020, when the Covid-19 pandemic started.
Pavilion KL II in the making?
Meanwhile, Wong does not discount the possibility that the buyer could be Lim. "It would make sense for him to buy the prime land and link it to Pavilion KL via an underground tunnel and an overhead bridge to create a Pavilion (KL) II on this site, like the link between 1 Utama Shopping Centre Phase 1 and Phase 2."
If Lim is indeed the buyer, there will be "marriage value" involved and Wong reckons that Lim could pay more than RM4,000 psf.
Another property market expert says the Loke Wan Yat family does not need the money, thus the offer must be compelling enough for them to part with the asset. Accordingly, he says he would not be surprised if the land is sold for RM4,500 psf.
In 2010, real estate history was made when Lim's Urusharta Cemerlang (KL) Sdn Bhd purchased 29,127.11 sq ft of land for RM210 million, or RM7,209.20 psf. The land, located between Grand Millennium Hotel and Pavilion KL, was purchased from Kwek Leng Beng's CDL Hotels (M) Sdn Bhd. Today, the Pavilion Elite mall and serviced residences are sited on this parcel.
ExaStrata Solutions Sdn Bhd CEO and chief real estate consultant Adzman Shah Mohd Ariffin, who pegs the land value at between RM3,000 psf and RM3,200 psf, also believes a deal could be sealed at a premium, given its prime location next to Pavilion and because the land is big enough for an iconic development. An example of a suitable development on the site, he says, is an extension of the Pavilion development.
He cautions, however, that, given the current market sentiment and challenging economic conditions, any new development may need to take place after 2025 to allow the market supply to first go through a consolidation.
It is noteworthy that Lim's Pavilion KL mall, Pavilion Tower and Pavilion Elite developments are all located across the street from the Hakka Restaurant land while Lim's Banyan Tree Signature is located next to the Hakka Restaurant. There is already a direct link bridge connecting Banyan Tree to Pavilion KL.
Just a few hundred metres away from the restaurant site, where the former Chulan Square was located, Lim is constructing the Pavilion Square development comprising offices and serviced apartments.  
The content is a snapshot from Publisher. Refer to the original content for accurate info. Contact us for any changes.
Comments